Smart watches are becoming big business now, some of the early runners such as Pebble have come & gone, but since the Apple Watch was launched there has been a number of condensers who have hit the market.
I've been deliberating over one for a while, mostly looking towards the Apple Watch, but as with all good tech enthusiasts I've been checking out all options available.
Firstly I'll say that I've not been looking at the Apple Watch because I'm any kind of follower of fashion items, I'm all about function & we'll get to this later.  However I do subscribe to the Apple ecosystem, I own an iPhone, iPad & Mac, so the obvious option was to buy a smart watch that would fit into that ecosystem.  My main issue was that I did not want to buy outdated tech & go for the series 1, I just know I would instantly regret it, & also I could not justify forking out £400 on a device I was not convinced of its worth yet.
After scouring many review sites I came across the Fitbit Blaze, half way between a smart watch & a pure fitness band.  I had just purchased my partner a Fitbit Alta for her birthday, so getting into the same fitness ecosystem as her (& what appeared to be many of my friends too) made sense.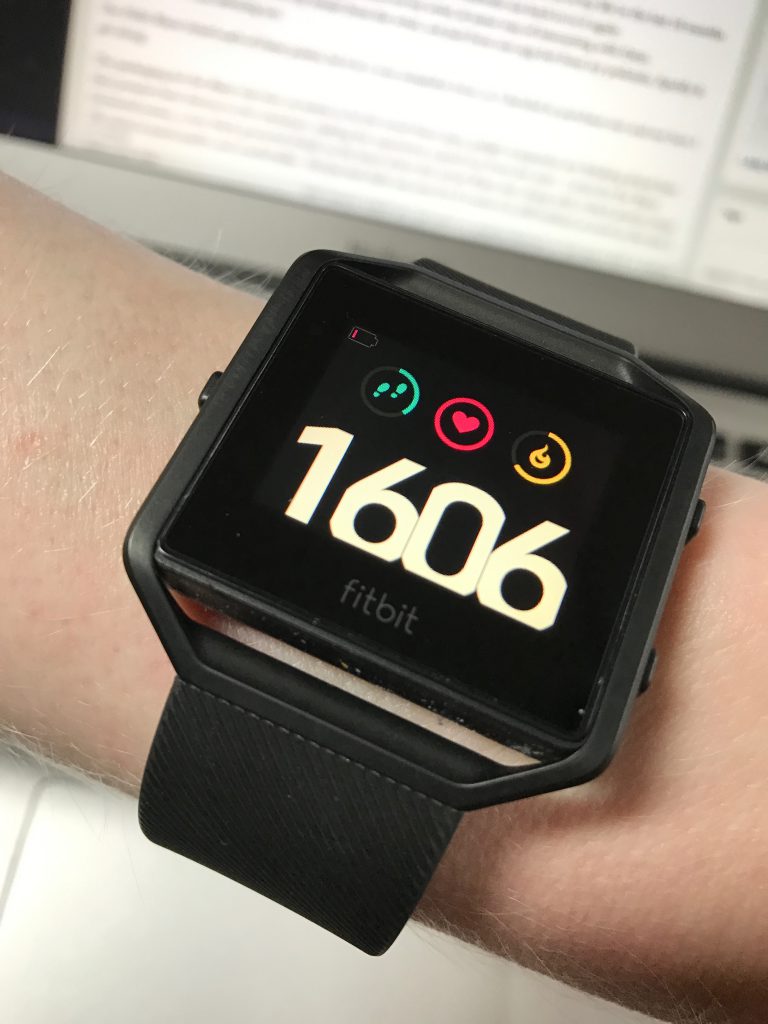 I had 3 main criteria:
I needed fitness tracking – I used to run & cycle a lot, due to a massive upheaval of my life in the last 18 months this has gone to the back burner, but I wanted something to motivate me back in to it again.
I wanted phone notifications to be easily visible on my wrist, & some way of interacting with them.
I needed to be able to control my music from the wrist, not just from one app but from my podcasts, Spotify & whatever I was listening too.
The Fitbit Blaze ticked each of these points, be it in a very simplistic form, so I decided to purchase one and see how I got along.
The packaging for the Blaze was nice, as seems to be the trend these days, gadget companies are thinking about how they present their devices to the consumer, making the experience a good one from the start.  I went for the Blaze Gunmetal series, a nice black gunmetal finish on the bezel where the actual Blaze site, along with a black plastic strap.  The strap is good quality and comfortable.  Having had daily use now for 8 weeks it is still looking as good as the day I got it out of the box.  You can also change the straps, there are many available, the Blaze seems to be Fitbit's entrance to the fashion smart watch market, and they have done a good job.  The straps are good value and the Blaze itself easily pops out and in to whichever you feel like wearing that day.
The Blaze is also customisable from a software stance, not just from the hardware straps.  There are a number of different clock faces you can choose depending on your preferred look, or the type of data you want easily visible from your wrist.  I chose the new Pop look as the clock face was nice and clear.  They seem to be adding new faces to the updated firmware as it comes out.  These are all set within the settings on the connected phone app.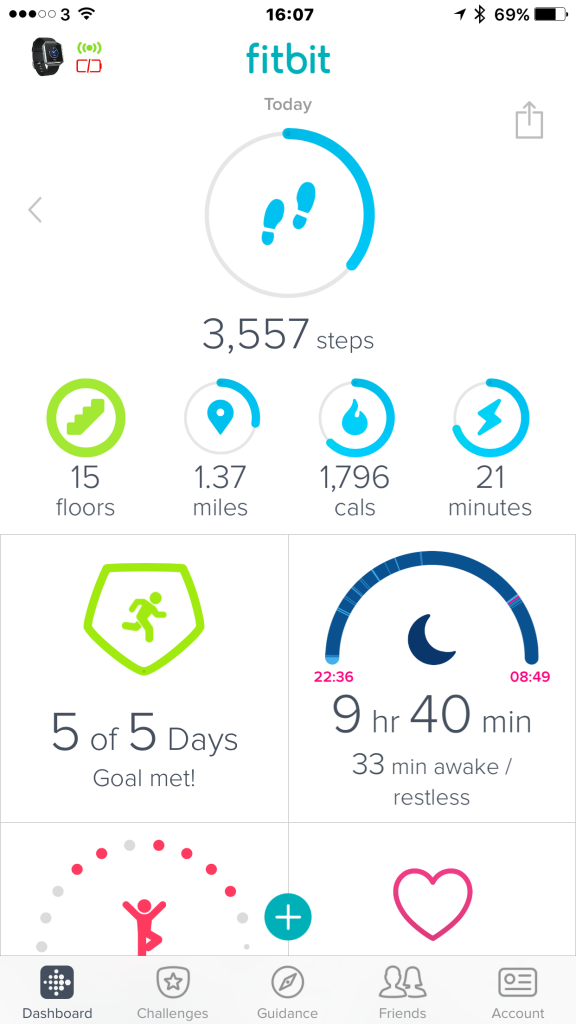 Firstly I will address the fitness tracking;  Fitness tracking is what Fitbit do, its the core of their business and what all of their bands and watches main focus is upon.  The fitness tracking is excellent, I found the step counting accurate, the way in which it automatically picks up exercises such as walking was good and the heart rate monitor was accurate and added another dimension to the kind of data you could read about what is going on in your body.
The mobile app is also nice, clear, concise and easy to use.  I was actually really surprised at how many of my friends already had Fitbit devices, and the use of challenges to spur each other along was a really nice touch.  I definitely think for fitness tracking, having people you know using the same platform is a big bonus.
One big drawback for me was the lack of GPS built in, I would have liked to have seen this so that I did not need to have my phone with me when out for a run or cycle.
Secondly I wanted phone notifications, the Blaze actually does this very well.  Any notification that is on my phone I can have pop up on my wrist.  Too many notifications would be terribly annoying, but currently I have WhatsApp and text messages appear, along with Fitbit notifications.  The Blaze also notifies you of calls, this feature is pretty neat as you can see who is calling, be alerted with a buzz on your wrist and answer or reject the call without having to get your phone out of your pocket, great for commuting on the tram!  The notifications are all very clear and easy to read, even for me with less than good eyesight, being short sighted this was always a concern for me with any smart watch.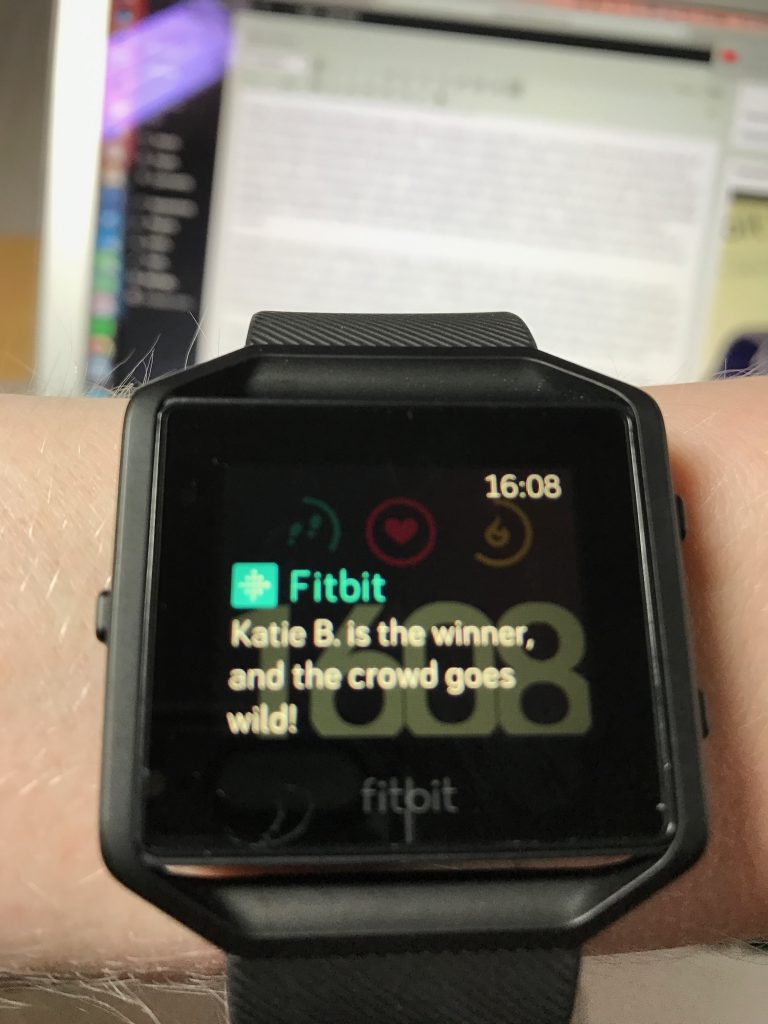 Finally I wanted music control, the Blaze does this by simply swiping down from the top of the watch face or long pressing the right top button.  You can control any music source you are currently using on your phone, be it podcasts, music app or Spotify.  I nice touch I thought as I often move between podcasts and Spotify and rarely use the in built music app.  There is however no built in storage so you cannot store music for offline play, also as it has no direct connectivity you have to have your phone with you to listen to music, another minor draw back for when out running or cycling.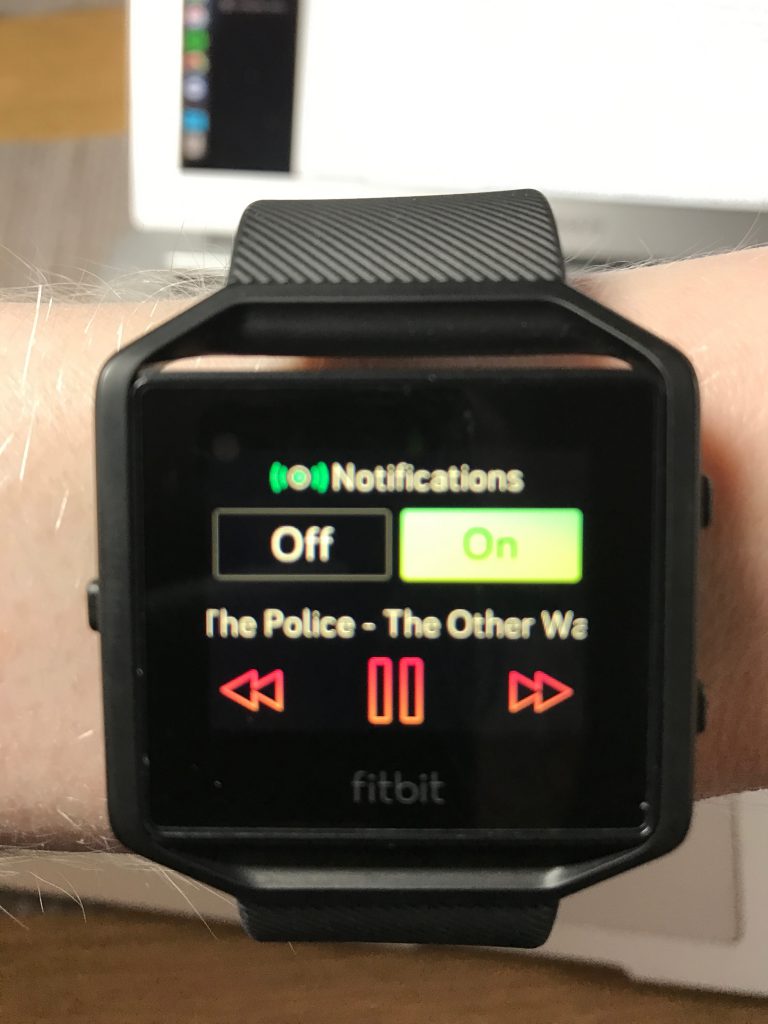 Conclusion
Although this is more of a fitness tracker than a true smart watch, the Blaze has positioned itself very well into the entry market.  At only £149 it is a very affordable way of testing out of a smart watch is for you, as well as giving you all of the fiction of a fitness band.
The design and build quality is excellent, as is the app that ties it all together, the Fitbit team have obviously put a lot of effort into it, which shows in the end product.
I still have my eye on what Apple will do with the Watch 3, however the Fitbit Blaze has affirmed to me that smart watches are a product I would get use out of, and at that price bracket it has not broken the bank.